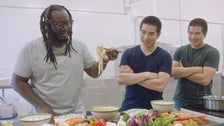 When Fuse TV announced the launch of "T-Pain's School of Business," the new show was met with predictable buzz online. The premise might understandably seem like a bizarre fit to those familiar only with T-Pain the musician.
But the move is perfectly consistent with the rapper's life story. As T-Pain lays it out for HuffPost, he used to help his father sell everything from chickens to custom Valentine's Day balloons and later he built computers to afford studio time.
In "T-Pain's School of Business," which premiered Tuesday night, the Grammy-winning artist and investor visits entrepreneurs around the country to learn the intricacies of their products and services. And these products and services run the gamut, as T-Pain talks with everyone from vegan ramen producers to creators of a cannabis-infused wine to inventors responsible for developing a digital guitar. Peeling back the layers of their individual businesses, he reveals the difficulties of starting a company — like the challenge of securing investments and the trials and errors of product testing. The end result is a documentary-style cross-section of America's industries and the people hoping to, in tech parlance, disrupt them.
T-Pain credits his upbringing as the source of his own entrepreneurial spirit.
"My dad owned his own restaurant — it was a seafood restaurant in Tallahassee," he told HuffPost.
"He had a chicken farm before that. And after that, we sold food out of the house, and after that, my dad was making custom air fresheners, custom Valentine's Day balloons. Business after business was coming out of my house."
As T-Pain grew older, his interests leaned toward computer tech, and the skills he developed in that realm ultimately enabled his music career.
"I was in the tech industry before anybody knew who I was," he said. "To fund what I had to do in the studio, I was building computers for people from scratch."
That shouldn't be wholly surprising even to people who only know him as a rapper. T-Pain's musical success is at least partially attributable to a seemingly unparalleled mastery of the vocoder, a computerized voice manipulation device that is often used (and, perhaps more often, misused) by artists across genres.
People would rather hear us tell them how much better our lives are than theirs, and they don't want to listen to us tell them how to make their lives as good as ours.
T-Pain, on the position of successful hip-hop artists
But "T-Pain's School of Business" doesn't just speak to the technical interests of its namesake. It also highlights another of his essential qualities, one that just as easily translates into the business world: skillful collaboration.
On his recordings, T-Pain boasts a chameleonic charisma that suits him well in settings from the Country Music Awards to atop the charts with Chris Brown. That has been the essence of his musical success, something that helped make him one of the more vaunted artists of the new millennium.
He says that same ability to collaborate and build teams with others is necessary in business, making him an authority of sorts on how to build and sell a product.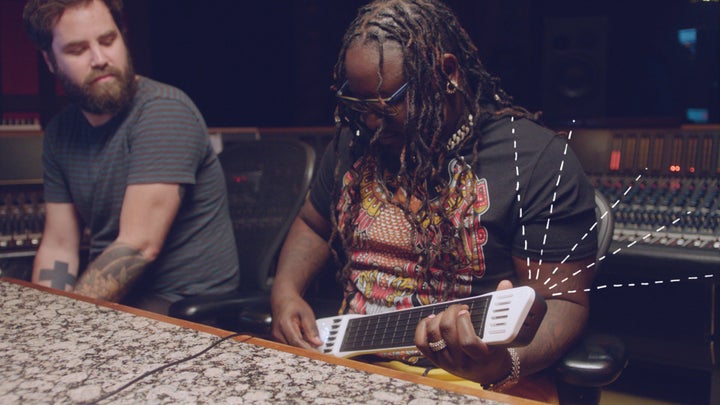 "There's people quitting jobs [to pursue their dreams], man. People selling their furniture," he said. "You've got to have some kind of support system around you."
But even as he spoke confidently of his business acumen, T-Pain acknowledged the stereotypes that prevent hip-hop artists like himself from being considered credible in conversations about business and investment.
"People would rather hear us tell them how much better our lives are than theirs, and they don't want to listen to us tell them how to make their lives as good as ours," he said. "It's so crazy to me."
"T-Pain's School of Business" seems ready to flip the script on T-Pain at least, showcasing him as an experienced venture capitalist whom you'd be wise to listen to.
REAL LIFE. REAL NEWS. REAL VOICES.
Help us tell more of the stories that matter from voices that too often remain unheard.