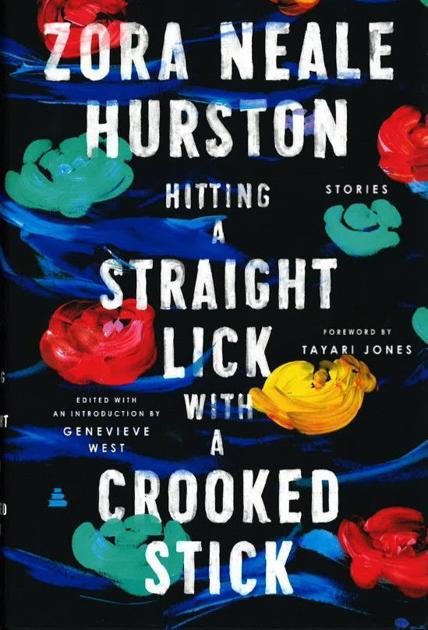 Genevieve West nurtured twin ambitions in editing a collection of fiction — some of it "lost" stories — by Zora Neal Hurston, one of the most influential black writers in American literature.
West, a professor who heads up the English, Speech and Foreign Language Department at Texas Woman's University, edited the newly-published Hitting a Straight Lick With a Crooked Stick. On one hand, West said she wanted to share her editorial theory about Hurston with other academics. But she said she also wanted book buffs to see how Hurston grew as a writer and as an American who reclaimed voices of working-class black folks during the 1920s.
The seeds of the new anthology started when West, whose studies focus on African-American literature, was working on her doctoral dissertation.
"I was looking for book reviews of Hurston's work," West said. "Back then, newspapers published poetry, fiction and serialized fiction. Black newspapers published these, too. There really isn't an index of all this work, though."
In her research, West found a sprawling database of work by black writers that indexed pieces published from 1827 to 1940. As she combed through what she calls "a massive microfiche collection" of stories, poems and reviews from black periodicals, West found pieces by Hurston she'd never heard of.
"In 2009, some other scholars found the work in different places," West said. "That brought me together with Henry Louis Gates Jr (the editor of the defining anthology, Zora Neale Hurston: The Complete Stories) and the Zora Neale Hurston Trust to create this collection."
Hurston's landmark novel, Their Eyes Were Watching God, was added the literary canon during the 1980s, when the academy was reconsidering who was allowed to be part of the American literary tradition — which is largely defined by white men. West describes Hurston's literary reputation as a writer of rural America, and a voice of the black working class. Her most recognized work is set in Florida, and where most of the human hustle was directed at the soil, or scrappy ventures with uncertain prospects.
"Hurston's characters are working in the orange groves, or they're gamblers or running a speakeasy," West said.
Hurston surprises in this new collection of 21 stories, West said. Nine of the stories were considered "lost" until West discovered them in hard-to-find periodicals.
"These stories are really her Harlem Renaissance work," she said. "Eight of the nine (lost) stories in this collection take place in urban settings."
West fell in love with African-American literature as an undergraduate, and she's devoted her research and publishing career to the oft-overlooked work of black voices. Hurston was criticized by some of her contemporaries in the Harlem Renaissance. Richard Wright, a black writer, panned Their Eyes Were Watching God, dismissing it as having "no theme, no message, no thought." Wright, and other critics, said Hurston was just extending the minstrel show, a form that reduced black Americans and their lives to parody, mocking their speech, their features and gestures for white audiences.
"I see Hurston's work as reclaiming that language from minstrelsy, and giving those voices their own stories to tell," West said.
Novel lovers might not zero in on the editorial decisions West made: the short stories, written early in Hurston's career, are published in the order Hurston wrote them. And West agonized over how to edit Hurston's punctuation. Like all published writers, Hurston's work was sometimes changed to suit editors and publishers. Hurston's situation was more complicated than that of her white peers.
"There was a lot of editorial meddling in her work that had to do with race and gender," West said.
In an effort to preserve Hurston's developing voice, West studied Hurston's other work and the stories themselves. West corrected errors she suspected were the result of typesetting. But apart from that, she took her cues from Hurston (if the author used "ain't" five times and dropped the apostrophe in one of them, West added an apostrophe.)
"It happened a lot with contractions," West said. "We treated each story as its own work, and we let the stories dictate the criterion. As you read these stories, you see how Hurston grew as a writer. Her punctuation and the way she used language changed."
Book enthusiasts and devotees of Hurston will find Hitting a Lick a rare glimpse into Hurston's growth. The earliest stories are a little sentimental, West said, and some of the characters feel two dimensional. But over time, the stories deepen and the characters take on nuance. West said that in these "apprentice" pieces, Hurston's examination of romantic relationships cast men as simpler characters, or foils in interpersonal dramas. But as she practiced her craft, Hurston's men and women got more complicated and realistic.
"The short stories are so fabulous," West said. "I want people to read and appreciate the splendor of her language. I hope people can enjoy the stories and that they can discover the richness of her words."
West is working with Gates on a collection of essays by Hurston, which cover everything from writing about elections to her work as a freelancer. The collection has been included in must-read books and most-anticipated books of 2020. It hit the shelves last month.
"After almost having lost Hurston to history — she was buried in an unmarked grave in a segregated cemetery — finding these pieces shows just what an important voice she is. So many of these stories are about men and women, that intersection. A lot of people think that gender criticism is about women. But Hurston was interrogating masculinity."
While she loves researching Hurston, West said she relishes sharing the writer with students.
"I don't get to do a lot of teaching anymore, but I love talking about Hurston with my students," she said.