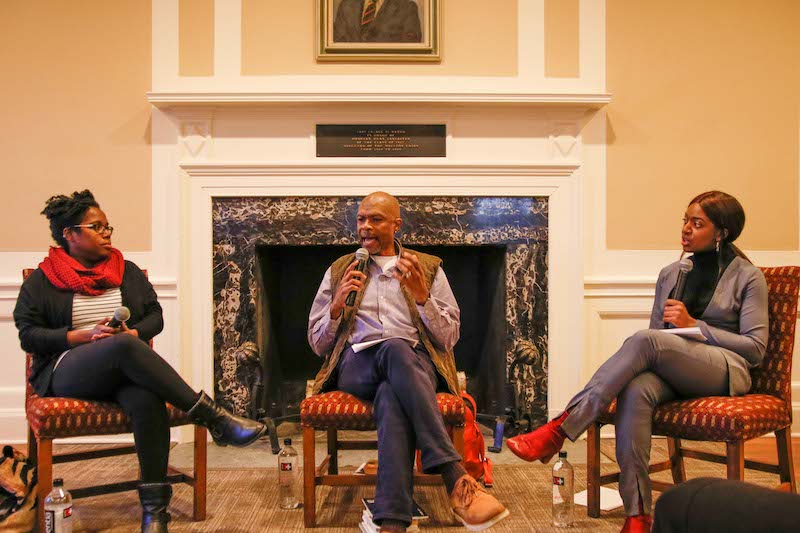 Amani Hite '20, who is president of the Black Student Union (BSU), moderated the conversation titled "Black Contributions to Culture, Politics, and American Life." The following is an edited transcript of the discussion.
In what ways does black culture contribute to American life? Or is American life simply black culture?
Foster: It's clear that black culture has played a large role in creating America, in terms of the labor that black Americans have contributed to building the nation's infrastructure. When Michelle Obama entered the White House, it didn't escape her that she was entering into a building that was constructed by black people, and she wanted to honor that.
In journalist Nikole Hannah-Jones' 1619 Project [a New York Times initiative that aims to reframe the country's history by placing the consequences of slavery and the contributions of black Americans at the center of the national narrative], she notes that African Americans set the benchmark, not only for understanding what freedom meant, but understanding the ways in which the American project was completely unfinished.
One contribution we've made so far is helping to perfect an imperfect project of democracy.
In American life, black people are often not the tellers of their own stories. How do we go about telling stories that celebrate blackness?
Laird: It is always available to be done. I think of, for instance, The New Negro, the Alaine Locke anthology of black work—work being done deliberately at the time of the Harlem Renaissance to demonstrate the humanity of black people. Because people need to understand that we are capable of greatness and capable of what is deemed to be the legitimate standard for that, through our ability to write, and be essayists, and to perform, and do these things that in the mainstream identify you as a person of a particular sophistication.
Telling black stories doesn't have to just be through the lens of literature or through the arts. You can do it in the sciences, you can do it in politics, you can do it in all types of places.
What are your thoughts on using black people in pain as the conventional focal point in film?
Foster: On the one hand, I really like that these stories are being told, because they are a part of American history. But when they are the only, or predominate, narratives that are being told, that becomes a problem. Because it suggests that the mainstream audience, i.e. the white audience, is only willing to consume narratives about black life that support or confirm a particular narrative that they have about us. It is difficult to appreciate all the accolades that get heaped on these films when there aren't other types of films standing alongside those films and black people aren't nominated for awards for other types of portrayals.
To have black women nominated in pretty close years for playing enslaved women [Cynthia Erivo in Harriet, Lupita Nyong'o in 12 Years a Slave] as opposed to them playing lawyers or doctors or other types of characters, says something about the culture. We should figure out what that is about. Because it is about something. I think Americans need to do more reflecting—not only people of color, but white people, too.
Would you say that America is appropriating black culture, so much that black culture itself is being eroded?
Laird: Black culture has maintained its strength in the most adverse of circumstances. Black people have maintained an ability to still be heard and be seen, even as the mainstream isn't always giving them the recognition they deserve. American culture does a lot to take what's coming out of the black community and define it as American, but I do think black people have been persistent in that they have still managed to keep themselves out there. And often white allyship becomes a big part of that. If you can't hear the black voices that are calling out, then the white allies who are in a position to lift those voices need to do so.
Foster: I'm not a completely pessimistic person. There are bursts of optimism floating around that I need, obviously. And being a teacher helps to fuel that optimism, in part because [students] don't have the burden of the past holding you back. You have been in the midst of tremendous change and that change is perhaps the reason why you are far more hopeful as a collective than people of my generation. That hopefulness that you have, I feed off of it and I want to inspire it and encourage it in some of the things that I do in my classes. Even if some days I'm more pessimistic than other days, I see you at the front of a world change.
Is there any literature that you recommend for the community?
Laird: Stamped from the Beginning, by Ibrahim Kennedy, andThe Fire Next Time, by James Baldwin
Foster: How to be an Anti-racist, by Ibrahim Kennedy, Citizen: An American Lyric by Claudia Rankine, Heads of the Colored People by Nafissa Thompson