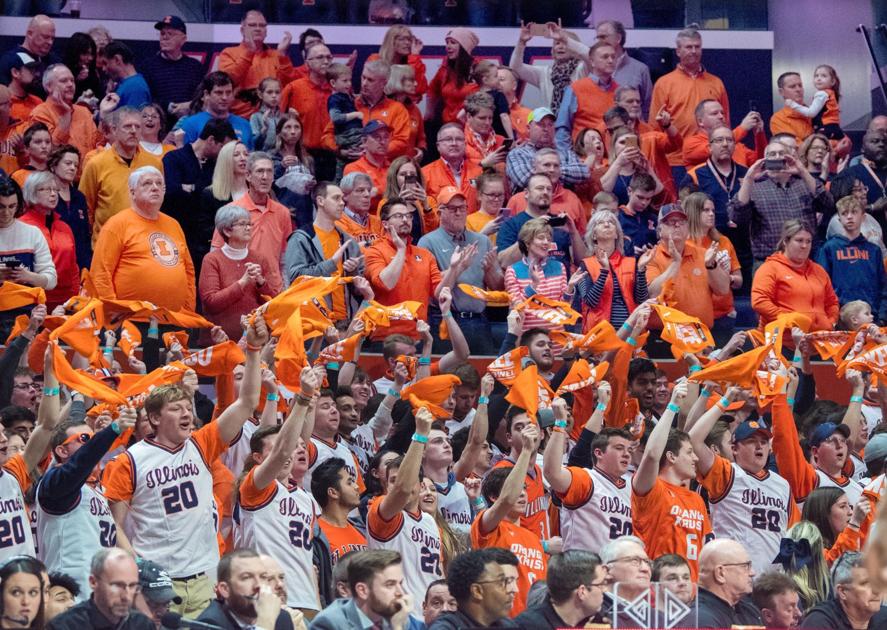 Right here at IlliniHQ.com remains your go to place for comprehensive Illinois basketball coverage throughout — and after — tonight's game. Including some online-only bonus coverage.
Follow along all night.
***
Michigan State has the top defense in the Big Ten this season — at least in conference games. Illinois knows what it has to do to try and exploit the Spartans. Actually doing so will be the challenge.
"We've got to move pieces and keep the ball moving," junior guard Trent Frazier said. "We've got to play inside-out and play to our strengths in transition."
"You've got to move them," sophomore guard Ayo Dosunmu added. "You've got to get them shifted from side to side. You've got to make Cassius (Winston) guard. You've got to make their bigs move."
There is one fairly important question tonight, though. Will Michigan State play any zone defense?
The Spartans are a man-to-man defense team. Illinois coach Brad Underwood said Monday that Michigan State coach Tom Izzo "hasn't played a trip" of zone defense all season.
"That doesn't mean they won't come in here and play (zone) anyway," Underwood said.
Why would the Spartans make that shift? Illinois' real struggles against zone defenses the past two games — both losses, no less — are something other teams could exploit until the Illini prove they can run competent zone offense.
"Teams know we kind of struggle a little bit with it," sophomore guard Alan Griffin said. "We worked on it in practice (Monday), and we should be ready. The hardest part is probably trying to get the ball inside.
"We've been working on getting the ball inside because once you get it inside the zone collapses and guys are turning their backs. It opens up on the perimeter. We've got Giorgi (Bezhanishvili) and Kofi (Cockburn) down there to do some work."
***
Illinois enters tonight's game looking to snap a two-game losing streak. Friday's home loss to Maryland, Illini coach Brad Underwood said, could be partially tied to how they got bogged down offensively.
"I thought our pace of our offense became a big problem," Underwood said. "Our cuts became slow, and the movement became slower. It threw off our timing, and we didn't play with the rhythm that we like to play with at that end."
Illinois' focus, though, immediately went to preparing for Michigan State, who's in the midst of its own three-game losing streak. The Spartans haven't lost four straight games since the heart of Big Ten play the 2006-07 season.
"Really no conversation," sophomore guard Alan Griffin said about lingering on the Maryland loss. "It's the next one. We just started getting prepared for Michigan State. It's seeing who comes up with the better game plan and executes.
"From the last one, obviously we've got to switch some things up. They've probably switched some things up, too. We'll see who comes out with the win. We expect the best from them. They've lost three in a row, but we've also lost two. We're both ready."
The Illini know how important it is to be able to bounce back from a couple losses in a row.
"We know to be a successful team and be one of the best teams in the country, you have to have wins like this," sophomore guard Ayo Dosunmu said about the potential of a win tonight. "The great teams, when they lose two in a row or three in a row, they respond well and come out and play."
***
The argument from Illinois coach Brad Underwood would be tonight's game against Michigan State is important simply because it's the next one on the schedule. That's long been his stance and how he approaches the season, which is fine.
The speculating and forecasting and looking ahead? That's where I come in. Tonight's game against Michigan State is more than just important. It could be pivotal.
Illinois enters tonight's game having lost two straight albeit still ranked in the Associated Press Top 25 at No. 22. Michigan State can't say the same having dropped from the poll Monday for the first time this season in a midst of a three-game losing streak.
Simply put, the Illini need to win at home. A potential loss to the Spartans could balloon to as many as five in a row with road games at Rutgers (the Scarlet Knights are unbeaten at home) and at Penn State (second-hottest team in the Big Ten behind Maryland) up next.
So, yeah. Kind of pivotal.
Illinois is currently a two-point underdog to Michigan State despite being the ranked team playing at home. The line has trended toward the Spartans since opening as a pick 'em late Monday. The Illini also have a 20-point loss at Michigan State this season.
The last time Sparty came to town was a little over a year ago. It was a sign of things to come. #Illini x #EveryDayGuys pic.twitter.com/Ha7BLCtQ5W

— Illinois Basketball (@IlliniMBB) February 10, 2020
Being a home dog isn't exactly new territory for Illinois in the series with the Spartans. That was the case last season, too. The Illini weren't supposed to win, and instead of last year's game at State Farm Center not ending well, Ayo Dosunmu hit a pair of clutch three-pointers in a court-storming Illinois upset.
Will it happen again?