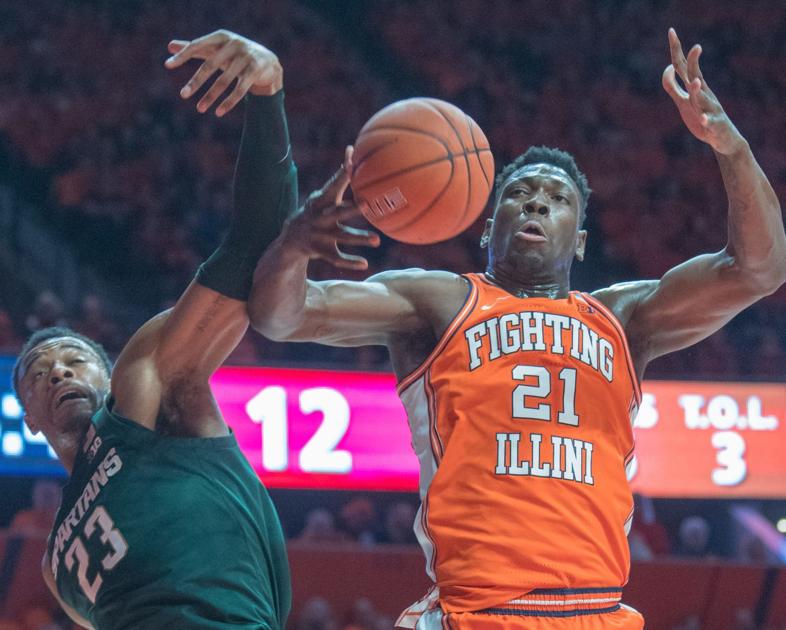 Player of the game
Michigan State guard Rocket Watts
Hard to believe Watts entered Tuesday's game averaging 7.2 points per game. The Spartans' freshman shot 9 of 14 from the field — hitting 2 of 4 three-pointers in the process — and led everybody with a game-high 21 points to easily set a new career high.
Backcourt
Michigan State A
Illinois A-
Holding Cassius Winston mostly in check (with some help from the Michigan State point guard's foul trouble certainly a factor) was key for Illinois. The Spartans countered, though, with a stellar game from Watts. Aaron Henry was solid, too. Illinois countered with strong second half performances from Ayo Dosunmu (17 points) and Andres Feliz (15 points). The seriousness of Dosunmu's injury on the last play of the game, of course, will determine so much in the coming weeks.
Frontcourt
Michigan State B+
Illinois C-
Kofi Cockburn eventually got going in the second half — much like the rest of his Illini teammates — but it was mostly a one-man show in the Illinois frontcourt. Cockburn finished with 11 points and eight rebounds, but Giorgi Bezhanishvili struggled mightily for the third straight game. Xavier Tillman had 17 points, 11 rebounds, three assists and two steals for the Spartans.
Bench
Michigan State C-
Illinois A
The Illini got significantly more production from their reserves, winning the bench points battle 29-7 against the Spartans. No surprise with Feliz and Alan Griffin leading the way, but Illinois got at least a couple good minutes — a play here and there — from rather unlikely sources in Tevian Jones and Jermaine Hamlin. Thomas Kithier's four points was tops off the bench for Michigan State.
Overall
Michigan State B+
Illinois B-
Consider this a full game grade because the Illini would have likely drawn failing marks across the board for their first half performance. No doubting that. Illinois managed to get back on track in the second half. Even led late and had a chance for the win that would have snapped a two-game losing streak and kept them firmly in Big Ten title contention. That's still possible. Just significantly more difficult at this point.