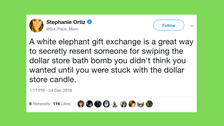 Many people participate in Secret Santa gift exchanges. But others like to take things a step further and plan a White Elephant swap.
In case you aren't familiar, White Elephant (aka Yankee Swap aka Dirty Santa) is a game in which everyone brings a wrapped present, places it in a pile and draws a number to determine the order in which the participants will select gifts to unwrap. As the game progresses, people have the option to unwrap a new gift or "steal" a previously opened present.
The game can get pretty heated (especially if it's 2005 and there's an iPod involved), so naturally it offers a lot of opportunities for Twitter humor. We've rounded up 30 funny tweets about White Elephant/Yankee Swap/Dirty Santa. Enjoy!
"); if ( "replace" === "insertBefore" || "replace" === "replace" ) { $yahooDiv.insertBefore(".js-bottom-most-shared .card.recirc__item:eq(1)"); if ( "replace" === "replace" ) { window.__yahooFlurry.addToCleanup("50b9b9b4-1f4f-4c41-94e8-dc7e6dd30814", "polar-gemini-most-shared", $(".js-bottom-most-shared .card.recirc__item:eq(1)")[0].outerHTML); $(".js-bottom-most-shared .card.recirc__item:eq(1)").remove(); } } else { $yahooDiv.insertAfter(".js-bottom-most-shared .card.recirc__item:eq(1)"); } window.__yahooFlurry.ready("50b9b9b4-1f4f-4c41-94e8-dc7e6dd30814"); });

"); if ( "replace" === "insertBefore" || "replace" === "replace" ) { $yahooDiv.insertBefore(".js-bottom-trending .card.recirc__item:eq(1)"); if ( "replace" === "replace" ) { window.__yahooFlurry.addToCleanup("2e63d6ca-115c-4d45-8b46-bdb10c4f0a97", "polar-gemini-whats-hot-2", $(".js-bottom-trending .card.recirc__item:eq(1)")[0].outerHTML); $(".js-bottom-trending .card.recirc__item:eq(1)").remove(); } } else { $yahooDiv.insertAfter(".js-bottom-trending .card.recirc__item:eq(1)"); } window.__yahooFlurry.ready("2e63d6ca-115c-4d45-8b46-bdb10c4f0a97"); });