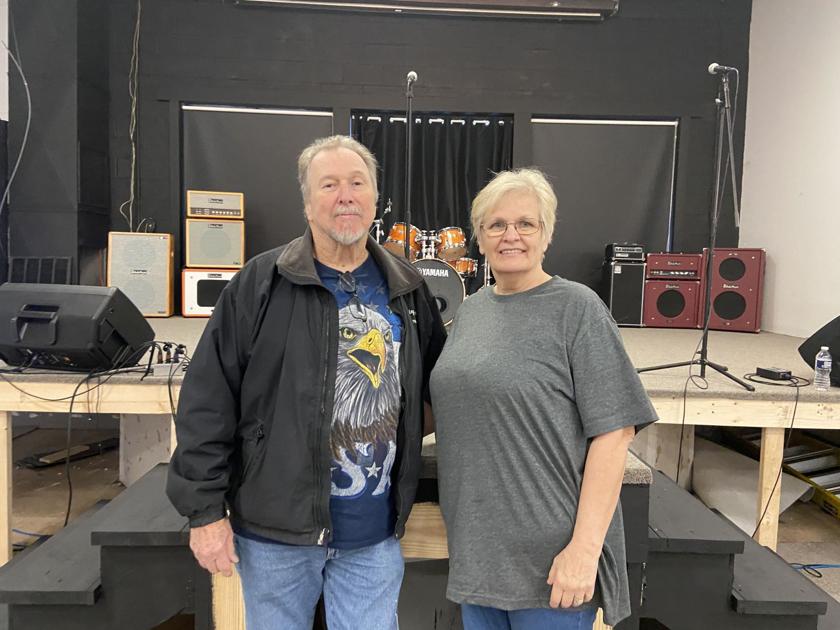 #inform-video-player-1 .inform-embed { margin-top: 10px; margin-bottom: 20px; }
#inform-video-player-2 .inform-embed { margin-top: 10px; margin-bottom: 20px; }
JEFFERSONVILLE — An addition to a Jeffersonville shop is bringing a new musical experience to Southern Indiana.
Lanesville residents Bill and Phyllis Duke are preparing to launch the Clark County Opry, a country music venue located in Maxwell's House of Music, with a grand opening on Saturday, Jan. 18. The venue's second show is Saturday, Feb. 15, and starting March 7, the venue will open full-time with live music every Saturday night.
The Dukes eventually plan to introduce special Friday night shows, which would feature a variety of musical genres, including country, gospel, oldies, tribute bands and rock and roll. The Clark County Opry's Saturday night shows will include the venue's house band with different guests each week.
The Saturday shows will be mostly focused on classic country music, along with some more contemporary songs and old-time rock and roll. It will be an "upbeat and fun" atmosphere, and the shows will also feature comedy routines, Bill said.
The venue is located in the former Maxwell's House of Fitness space connected to the store, and the Dukes have renovated the room, which features a stage and seating for about 200 people. The venue is using sound equipment provided by Maxwell's.
The Dukes are still putting the finishing touches on the venue, including acoustic panels and a concession stand, and they are looking for sponsors for their shows. The ticketed shows are $12 for adults, $6 for children and free for ages 5 and under.
The venue will likely feature shows once or twice a month on Friday evenings, and if it goes well, might expand to every Friday. The couple is also hoping to offer Saturday matinees to cater to older crowds, Phyllis said. While night shows will last three hours, the matinees would only be two-hours long.
"SOMETHING BIG FOR EVERYBODY"
The Dukes have plenty of experience in the music business. Bill has been booking talent, producing and promoting shows for about 25 years, and he and Phyllis started working together when they married 22 years ago.
For six years, they operated a country music hall called the Scottsburg Jamboree at an old movie theater in Scottsburg, and for four years, they ran the Lincoln Amphitheatre in Spencer County. They opened another music hall in Missouri, and recently, they have presented road shows at state parks in the area. They operate a talent agency called Rising Star Promotions.
The couple had been looking for buildings where they could open another country music venue, but they were concerned that it would cost too much to even get started, Bill said. He spoke with Mark Maxwell, partner with Maxwell's House of Music, about their search for a space, and they learned that the former fitness studio was available for lease starting in October.
"We're really excited about it," Phyllis said. "We're going to try to get new people coming in. Shoot, if we booked every band that I've gotten emails from since I've opened up the [Clark County Opry] Facebook, we would never have any empty days. There's a lot of new people wanting to come in and do new things in the area, coming from different places."
Bill is excited about the collaboration with Maxwell's House of Music, and he said they all feel that the Clark County Opry "could turn into something big for everybody."
"What better thing for [Maxwell's] than to have people come in that are singers and musicians and might decide to buy a piece of equipment, or maybe someone in their family wants to take music lessons or singing lessons," Bill said. It's going to help them, it's going to help us, because they're always promoting the fact that we're starting this and we're going to have shows, and we're promoting the fact that, 'hey, we're inside Maxwell's House of Music,' which is helping them."
Phyllis said the Clark County Opry will be "history being made," and as far as she knows, Clark County has never had a country music venue featuring shows on a regular basis. Many musicians have reached out to them expressing excitement about having a local venue where they can perform, according to Bill, and he expects it to bring in musicians and audiences from both Southern Indiana and Louisville.
"We'll probably see a lot of people we haven't seen in years," Phyllis said. "A lot of people have already commented, saying they're going to be there. We're excited to bring new things to the area. It's a lot of work, but we're excited about it…as soon as the night comes, it's going to be perfect."
Soft drinks and snacks will be available for purchase from the concession stand, but when the weather gets warmer, they hope to have food trucks outside the venue so audiences can enjoy a meal before the show, Bill said. The shows will be general seating at first, but once they start establishing an audience, they plan to switch to reserved seating.
The first performance at the Clark County Opry will feature six guest artists, but there will typically be two artists on a regular night. Bill said he hopes to feature talented students in Maxwell's music programs, and eventually stage talent contests and auditions to get new guest artists into the Clark County Opry.
They expect to build a regular audience, he said.
"We do know from experience that, if people come in here, and say it's their first time here and they have a great time and love what we do, they're going to start coming regularly," Bill said. "And they're going to tell their family and they're going to tell they're friends, and they're going to start coming regularly, and next thing you know, you've got 100 people regularly, not counting your walk-ins off the street or those who just now heard about it and decided to come. A lot of jamborees depend on their regulars."
Maxwell said the Clark County Opry is the "most exciting thing that's happened in this town in forever."
"These are great singers and songwriters from our area that we can highlight and showcase in a safe environment," he said. "We're not a bar. We're a place to listen to great music. That's kind of what we're pushing for."
#inform-video-player-3 .inform-embed { margin-top: 10px; margin-bottom: 20px; }