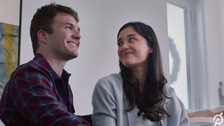 The guy who played the husband in exercise bike company Peloton's much-mocked viral holiday ad is really committed to its products.
Sean Hunter, the Canadian actor and teacher who played the husband in the polarizing holiday ad, gave his real-life partner, Cassidy Baras, an actual Peloton exercise bike for Christmas. (Some guys never learn.)
"Here's hoping this goes over better the second time…. Merry Christmas to my actual girlfriend (pls don't leave me)," he joked on Instagram on Christmas Day, alongside a photo of him and Baras, both with big smiles on their faces.
The ad for the bike was ruthlessly mocked on social media earlier this month. The 30-second ad features a man, played by Hunter, gifting his wife a Peloton for the holidays.
Then, we see the fictional wife's yearlong fitness journey, which she anxiously documents via selfie videos. At the end of the year, she makes a compilation video of all the clips as a gift to her husband and thanks him for transforming her life.
Some noted that the ad had a horror film or "Black Mirror" episode quality to it ― the actress does have a worried look on her face throughout most of the commercial ― while others pegged it as sexist. The ad was so controversial, the exercise equipment company's stock fell almost 10% in the immediate aftermath of its release.